K10 Round 1 (Qualifying Round 1)

Cosmo Gang the Video (US) [cosmogng]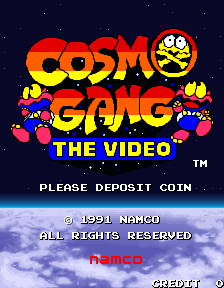 Year - 1991
Manufacturer - Namco
Genre - Fixed-Screen Shooter
Settings: Default settings (3 lives, Rank Normal) [make sure you delete cosmogng.nv!]
Versions of MAME allowed: WolfMAME 0.106 or WolfMAME 0.148
Button Configuration:
Button 1 - Fire
(the input menu has a Button 2 and a Button 3 listed, but they do not do anything)
Round Duration: Saturday March 16th, 00:00 GMT - Friday March 22nd, 23:59 GMT
TIME REMAINING
World Record - 27,005,010 pts by KDK-TAKEYUKI (autofire...)
MARP Record - 21,959,020 by
Novice@Team2ch.jp
HISTORY
The Cosmo Gang began as an arcade redemption game released by Namco, where by using a mounted "light gun" you had to stop cutesy aliens from stealing energy at your home base. It turned out to be quite popular, and so Namco decided to capitalize on that popularity by using those characters in a couple video arcade releases shortly thereafter: Cosmo Gang - The Shooting, and Cosmo Gang - The Puzzle.
And so for the first round of K10 we'll be playing Cosmo Gang - The Shooting. This game is essentially a takeoff of Namco's classic Galaxian and Galaga games, except here you're blasting away at the Cosmo Gang (and other new enemies). It's a very simple game to pick up and learn, but there is a very interesting difficulty curve - the first few stages (or "Gangs" as the game calls them) are quite easy, but the later stages will truly test your dodging and shooting skills. Bonus stages appear every now and then in which you - what else? - stop the Cosmo Gang from stealing energy, in an obvious nod to the original redemption game, and are a prime opportunity for scoring big points. Can you survive all 33 Gangs and defeat their leader?
As one of the three qualifying rounds of K10, all players are of course welcome to participate. Don't like this game, or shooting games in general? Fear not, there are still two more games (in two different genres, of course) in which to get qualifying points. But of course I recommend doing your best every round if you want to secure a good spot in the top 32!
SAMPLE PLAYS
Here are a couple recordings that were mainly made as "test" recordings by the coordinators to ensure there were no problems with playback. There's no bonus or anything for beating these scores, they're just provided to show we play the games too.

bbh_cosmogng_8678630_wolf148.zip
mjs_cosmogng_3655820_wolf106.zip
Again we apologize for the delays in getting everything started, but K10 is officially ON! Good luck to everyone participating!