K10 Round 2 (Qualifying Round 2)

Hang-On (Rev A) [hangon]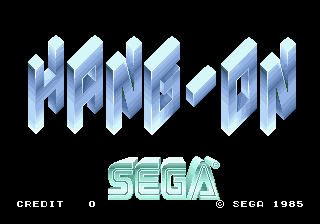 Year - 1985
Manufacturer - Sega
Genre - Racing
Settings: Default settings (Difficulty Medium/Normal, Time Adjustment Normal)
Versions of MAME allowed: WolfMAME 0.106 or WolfMAME 0.148
Button Configuration:
Paddle - Handlebars (steering)
Pedal 1 - Accelerator
Pedal 2 - Brake
Round Duration: Saturday March 23rd, 00:00 GMT - Friday March 29th, 23:59 GMT
TIME REMAINING
World Record - 53,528,560 by Fukutake Yukio
MARP Record - 34,913,750 by RAX@AIVA
HISTORY
Created by legendary Sega game designer Yu Suzuki in 1985, Hang-On was a revolutionary game for its time - the quick sprite scaling arguably gave a greater sense of actually "being there" compared to driving games that had been released in arcades prior. Furthermore, the game got released to arcades in three different cabinet types - a standup version, a "seated" version, and a deluxe version that simulated riding a motorcycle. The deluxe version was obviously the biggest draw to arcadegoers, but it still enjoyed a good amount of success when it was ported to the Sega Master System, and was famously included as a full playable game in the in-game "arcade" in the Dreamcast game Shenmue (also designed by Yu Suzuki).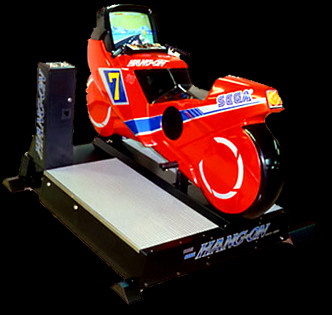 I'll be frank though - playing this game in MAME is not quite the same experience as riding that motorcycle. It's still completely and totally playable on a digital (non-analog) control scheme, but you may not have the same precise controls as the arcade handlebars. One can still do very well on this game using a keyboard, pad, or joystick... but you may have to play around a little with the analog settings.
(In testing this game, I found that I initially had issues with 0.106 in that the control would sometimes get "stuck" when going to the left, or not respond immediately when pushing to the left. Going into the analog settings and raising the Paddle Autocenter Speed to the maximum of 255 seemed to fix this, I think. Still, I found that the control worked better for me in 0.148, but your mileage may vary (it's an automobile joke! Get it?!...). And yes, I played back quite a few personal attempts at this with 0.148 and encountered no desyncs, so here's hoping what happened with Cosmo Gang was an isolated incident that only happened with that driver. Anyway, if you have any issues with the controls, post and we'll try to help you out)
SAMPLE PLAY
http://bbh.marpirc.net/k10/bbh_hangon_2 ... olf148.zip
This is the second of the three qualifying rounds. If you don't like this game, or racing games in general, you still have one more chance next week to gain points to make the top 32. Good luck to everyone!