K10 Round 3 (Qualifying Round 3)

Ghostlop (Prototype) [ghostlop]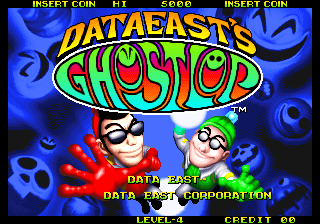 Year - 1996
Manufacturer - Data East
Genre - Puzzle/Breakout
Settings: Default settings (Difficulty Level-4, 2/3 rounds),
Default Bios (European)
Versions of MAME allowed: WolfMAME 0.106 or WolfMAME 0.148
Button Configuration:
Button 1 - Red ball
Button 2 - Blue ball
Round Duration: Saturday March 30th, 00:00 GMT - Friday April 6th, 23:59 GMT
TIME REMAINING
World Record - N/A (unreleased arcade game)
MARP Record - 112,269 by powerman7t
HISTORY
So here's an interesting one. Data East released several games for the Neo-Geo arcade/home platform, including the popular puzzle games Magical Drop 2 and Magical Drop 3 (which was used in K7). In 1996 they attempted another "competitive"-styled puzzle game along the lines of Magical Drop and Puzzle Bobble, called Ghostlop. Unfortunately, for whatever reasons (bad location test earnings? SNK felt there were enough Neo-Geo games being released at the time? we may never know), it was turned down for release, despite being a 100% complete game. It was later re-considered for release in 2000 when SNK went bankrupt and was bought by a company named Aruze, and with nobody left to actually produce games at the old SNK, they looked at the back catalog of cancelled games... but again, Ghostlop was turned down. As luck would have it though, a few years later, someone got their hands on one of the cartridges (possibly used at a location test or arcade event showing) and dumped the roms so it would be preserved forever.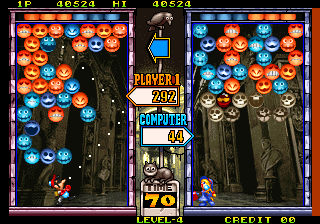 Unlike some other games carrying the "Prototype" description, Ghostlop is a complete game that by all means should have been released back in 1996. Gameplay is easy to understand and pick up - you control the character at the bottom of the screen and can angle your shot accordingly. Red and blue "ghosts" are on the top half of the screen, to wipe them out you have to use the appropriately-colored shot - pressing the A button will destroy red ghosts, and pressing B will destroy blue ghosts. But, you can also change the ball's color while it's in mid-flight! You then have to catch the ball as it comes back, or else an extra row of ghosts will get added to the top. By strategically placing your shots so that you drop a large number of ghosts at once, you will send gray ghosts to your opponent's side. Gray ghosts can be destroyed with two shots of either color, or by dropping them if they're attached to different-colored ghosts above them. There's also bombs that blow up a portion of the screen, and yellow ghosts that will destroy all of the same color you hit it with. You win the round if the ghosts on the opponent's side reaches the bottom of the screen first, or if when time runs out you have a higher score than your opponent (and if you want points, you need to drop lots of rows of ghosts at once, or attempt a more difficult "chain"). You must win 2 out of 3 rounds to advance to the next stage.
Be sure to select "Story" mode (the default option) after pressing Start. Story mode gives you several branches in the plot where you're given a choice on where to go next (and who you end up fighting). This is of course entirely the player's choice in this tournament.
There is one little problem with this game though - the score is only updated on stages you complete, meaning it doesn't add any points if you lose 2 out of the 3 rounds on a stage. It's unfortunate, but to save everyone the headache of trying to figure out what the points were on the last rounds, we will of course be using the final score that shows up when the game prompts you to enter your initials. It also means that you will have a score of 0 if you don't complete the first stage... but I think everyone here is capable of doing that at least, right?
As this is a Neo-Geo game, make sure you have neogeo.zip along with ghostlop.zip. There are multiple BIOS choices which CAN affect playback - please make sure your BIOS is set to the default, which is Europe MVS Ver. 2. Also make sure there are no memcard.000 files in your MAME's \memcard directory - it can potentially break playback if you have one there.
SAMPLE PLAY
http://bbh.marpirc.net/k10/bbh_ghostlop ... olf148.zip
Remember that this is the final qualifying game - the top 32 overall players after this round is over move on to the elimination rounds.
Good luck!
Standings after Round 2:
Code: Select all
 
      Name                     Week 1  Week 2   Total

01. RedStar                      90     100      190
02. TheBSM                      100      46      146
03. colman paolo                 65      80      145
04. RAX@AIVA                     40      90      130
05. *Goldtimes*                  60      70      130
06. nii-san                      70      58      128
07. MarcoMarocco@AIVA            75      44      119
08. oldtimes                     50      62      112
09. Kale                         46      65      111
10. sikraiken                    80      30      110
11. el fumador                   54      56      110
12. Sawys                        44      60      104
13. AGODZILLA@AIVA               24      75       99
14. Tekkaman@AIVA                52      38       90
15. essekappa                    56      32       88
16. INNUENDO                     38      48       86
17. saulonpb                     58      21       79
18. Metrackle                    62      16       78
19. Dax                          21      50       71
20. wolfman24                    42      29       71
21. RdP                          30      36       66
22. Potante                      36      25       61
23. Phil Lamat                   26      34       60
24. nibbler 69@AIVA              32      28       60
25. Paulo Valmir                 48      10       58
26. Barra                         0      54       54
27. Pengafin!                     0      52       52
28. Hunter Killer                10      42       52
29. C. Hatchett                  10      40       50
30. simpsons99                   34      14       48
31. BDFil                        23      22       45
32. chrisbo                      20      23       43
33. RJM                          14      27       41
34. NotMan                       29      10       39
35. Yar                          28      11       39
36. DaLar                        18      20       38
37. TRB_MetroidTeam              19      19       38
38. Gerhard Schindler            25      12       37
39. Fordy                        13      24       37
40. Chrono256                    22      15       37
41. DeSangre                     10      26       36
42. kernzy                       17      18       35
43. giro-X                       12      17       29
44. CrazyKongFan                 15      13       28
45. Dark Kariya                  27       0       27
46. MassimoGaspari@AIVA          11      10       21
47. RichyS                       10      10       20
48. ballas                       16       0       16