(posting this early because I won't be home for the rest of the day)
K10 - Round 4 (Elimination Round 1)

Snow Bros - Nick and Tom [snowbros]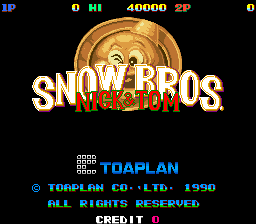 Year - 1990
Manufacturer - Toaplan
Genre - Platformer
Settings: Default settings (Difficulty Normal, 3 lives, Extra at 100k, etc)
Versions of MAME allowed: WolfMAME 0.106 or WolfMAME 0.148
Button Configuration:
Button 1 - Throw snow
Button 2 - Jump
Round Duration: Sunday April 7tth, 00:00 GMT - Saturday April 13th, 23:59 GMT
World Record - 6,936,220 by Excel-SSC-VAP
MARP Record - 6,958,060 by kangseungkoo
(For all I know there could be a better record, I'm sure Gemant will fill me in as usual)
HISTORY
Inspired by Bubble Bobble, Snow Bros is a 50-stage single-screen platformer in which you wipe out enemies by covering them up with snow and rolling them up into balls... to their death!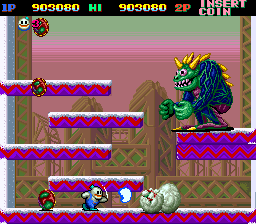 This game could be difficult to fully learn in a week, as for optimal scores you want to "group" enemies as best you can, as clearing the screen of enemies in a single chain reaction is worth a bunch of bonus 10k point items (+8000 points for every enemy hit by a blue ball). Although you may want to focus on getting farther into the game and just clearing stages, the reward of single-screen clears is pretty big to ignore...
Do note that the game kind of has... well, let's just say some minor leeching issues. It's possible to earn big points on the boss stages, as the time limit is pretty generous and when the timer runs out on a boss, it just kicks you ahead to the next stage anyway. The top score on MARP demonstrates what appears to be a very controlled technique for leeching on the last boss as there does not seem to be a timer for the last stage. I'm not 100% sure if it is indeed an "infinite" leech, but seeing as there has no been ruling for it on MARP, and the difficulty in which it takes to get to the last stage, plus the fact that you are putting yourself at risk to pull it off... we will let it slide. I don't think it will be an issue, hopefully I won't be proven wrong!
This is the beginning of the elimination bracket, the round of 32. You must defeat your opponent's score to advance to the next round.
http://challonge.com/k10
Good luck to everyone!