Golden Era Game of the Week
See introduction here
The Game:
Food Fight
romname:
foodf
Screenshot: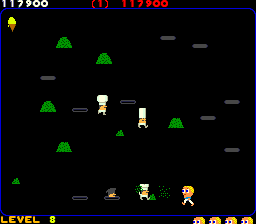 (click to see current MARP scores)
Reward:
$50 (usd)
Deadline for submission to MARP:
July 8, 2005 2359 hours GMT
Further Bounty #1:
$50 (usd) for demonstrating an as-yet undocumented "trick" for getting 255 lives during gameplay. Must be submitted to MARP before January 1, 2006.
Further Bounty #2:
$75 (usd) for playing a single game over 2 hours. $150 if that game score exceeds 10 million points. Must be submitted to MARP before January 1, 2006.
One of those cutesy games that I never paid much attention to, but I enjoyed playing it the last couple of days. Would have liked to have had more time to improve.
Seems to be some joystick calibration issues with it. If you don't go through the calibration test at startup, it still doesn't seem to work properly until you've held the stick in each direction a couple of seconds. I finally started making a little square circuit on the first level, and everything seemed to work after that. I was using the analog stick on a gamepad, there might be no problem with the regular 8-way directional controller, but you give up some precision on it.
A pretty good page devoted to the game is here:
http://www.moonworks.com/foodfight/
FAQ is
here.
The records for the arcade machine strongly suggest marathonability, so we will be observing the usual one hour limit. I'd like to see it, though. Those little bastards get pretty vicious after 100k or so.
Use WolfMAME .97
"On Deck" game: Sky Army