Golden Era Game of the Week
See introduction

here
The Game:
Radical Radial
romname:
radrad
Screenshot:
...........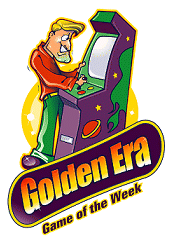 (click to see current MARP scores)
Reward:
$50 (usd)
Deadline for submission to MARP:
July 14, 2006 2359 hours GMT
Further Bounty:
none
Okay you DonPachi zombies. This is probably as close as you're going to get this year.
In this game you're a tire...alternating between the "alien course" and "highway course". In the highway course you can't shoot, you just collect points and dodge the "cars". In the alien course you run an obstacle course of rocks and shoot at alien insect-like things. It has an appealing element of speed that these games usually lack.
I actually enjoyed playing this one, but it gets kind of repetitive pretty quickly. The bonus stage is exactly the same every time around....those sufficently talented will be able to do it with their eyes closed after a few times.
Random prize:
One player scoring in excess of 100,000 points, selected randomly from those who do, will receive, soon to be "officially" released on DVD (Amazon.com says it will be released on October 31), the 1983 cinematic classic
Joysticks
starring Joe Don Baker as the corrupt city councilman trying to shut down the local arcade. This one has a rating of 3.4 on IMDb, but also has a topless woman playing Pac-Man. How bad can it be?

Use WolfMAME .106
On Deck game:
Champion Baseball